Learn how to make your own DIY dry shampoo right from the products you have in your cupboard. This dry shampoo is chemical and toxin free, while also helping take the grease out of your head for a perfect hair day! You will be so happy you switched. 
I have been called the queen of dry shampoo. Even on my graduation cap I put a saying about how I only got through college with Jesus, coffee, and dry shampoo. Pretty funny, right?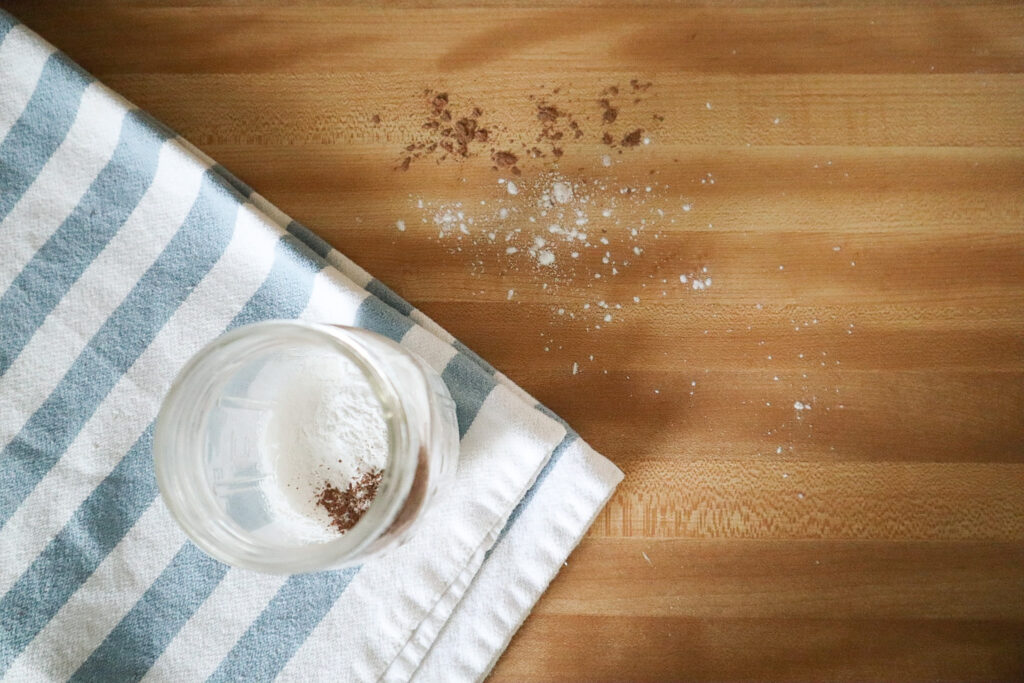 Dry shampoo has become a hot topic over the past couple years becoming very popular in this day in age. We are learning through licensed cosmetologist that it isn't healthy to wash our hair anymore, but this doesn't stop the greasiness from coming in. Therefore, dry shampoo is a necessity.
WHAT IS IN STORE BOUGHT DRY SHAMPOO?
I have taken the ingredients from a dry shampoo that I used religiously and have listed what each are. Now, what I used was not the top notch brand, but as a broke college student it was what I could afford.
The ingredients that were in my store bought dry shampoo may not be the same in a higher quality ones, so I encourage you to do your research on the ingredients of your own.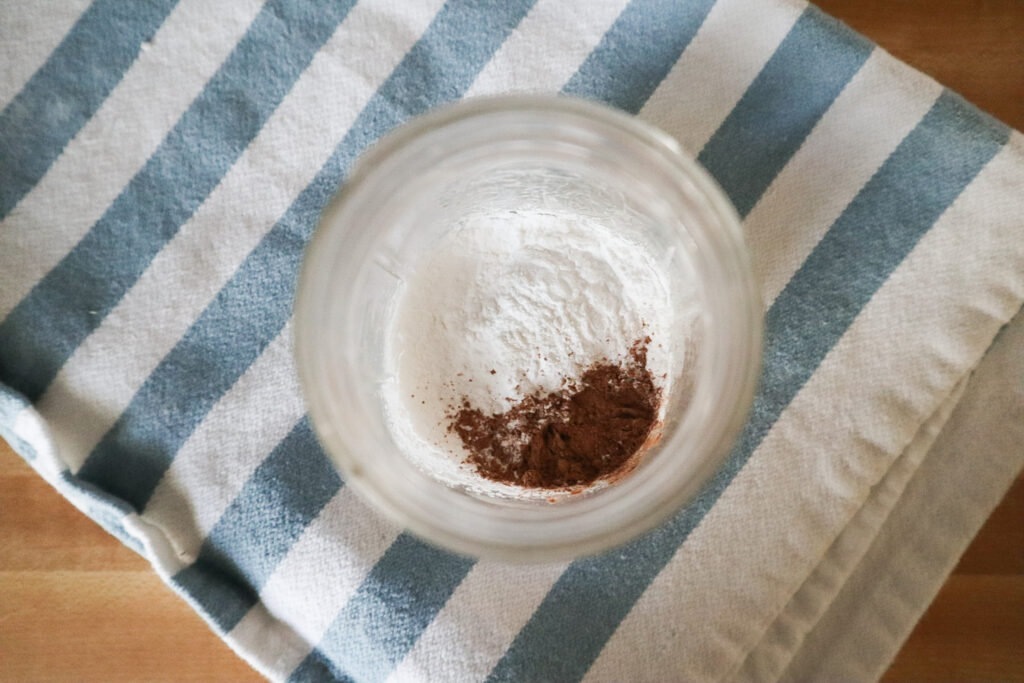 Today I am going to break down every ingredient that was in my dry shampoo that I used. Remember, ingredients list the most ingredient in the can first. Here they are:
Butane – is a gas and is highly flammable.
Isobutane – is a colorless gas with a faint gasoline smell. It is normally used as a refrigerant, aerosol propellant, furl, and can occur in cigarette smoke.
Alcohol Denat – it is pretty much an alcohol. It does have properties that can make it poisonous if consumed. It is safe for the skin but dangerous if digested.
Parfum – perfume water.
Limonene – chemical found in the rind of citrus fruits; good for skin but when exposed to air it can become harmful.
Linalool – it is okay for the skin, but when exposed to air it can become toxic.
Geraniol – fragrance derived from flowers such as roses.
Benzyl benzoate – is used in cosmetics but toxic to eyes and should not be consumed.
Distearyldimonium Chloride -prevents oil and has moisturizing properties.
Cetrimonium Chloride – emulsifying, conditioning treatments.
*Information has all been obtained from google search*
As for someone who used this dry shampoo religiously, this is insane to me. Especially for the ingredients that can become toxic when in the air which it's pretty much an aerosol can and is fully sprayed into the air.
Also with the consumption part; we may not fully consume the dry shampoo, but if we breathe it in from the air I cannot imagine that this is healthy for us.
I would recommend to do your research for yourself on your product to make the decision for yourself. Confidently I can say that the dry shampoo I was using was not the healthiest for my hair or my body.
IS STORE BOUGHT HARMFUL?
This is solely my opinion based upon my own research that I have inquired. If you have concerns for yourself, I believe you need to do your own research based on this topic and conclude your response for your own body from there.
I do not believe that store dry shampoo will kill you or intoxicate you by any means, but I do not believe it is healthy for your hair. With all the ingredients listed above, it goes to show that what's in you dry shampoo is a lot of gases and chemicals that are harmful to your eyes and even when sprayed into the air.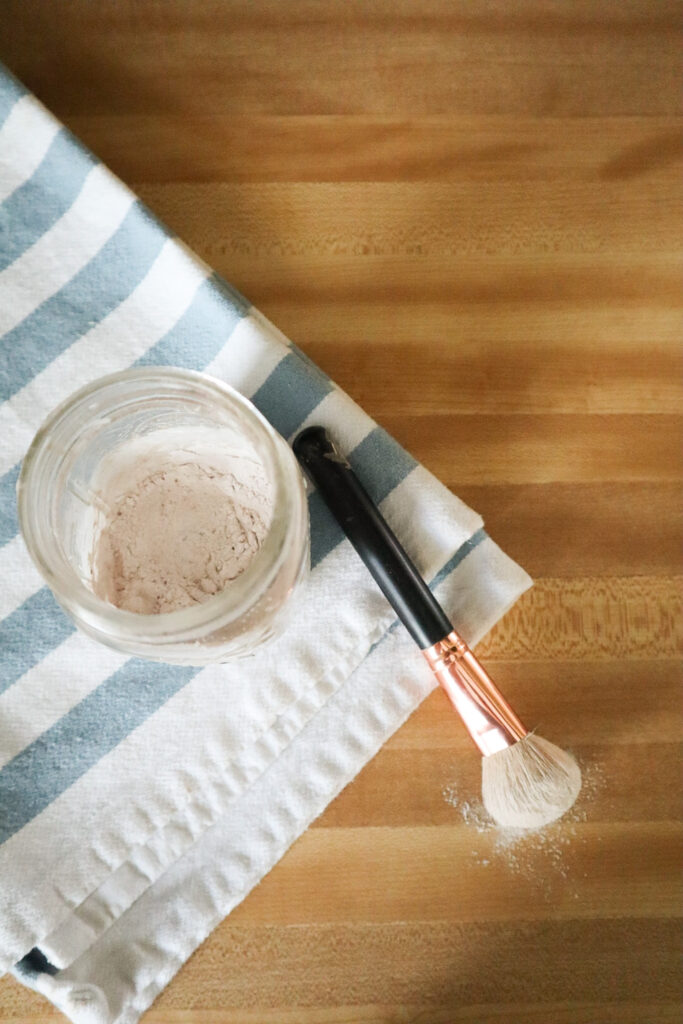 For myself, after having years of hormone issues, I have found that covering my skin and hair in natural products (a.k.a homemade) is just as important as consuming them. I believe for my own body that store bought dry shampoo has been harmful to my body in a way where the chemicals have been affecting my hormones this whole time.
Without blood work and statistics of my body I cannot prove this, but with everything I have been through especially in the past 5 years, it makes sense how it could add to the issues I have been having.
WHY SHOULD I MAKE HOMEMADE DRY SHAMPOO?
DIY dry shampoo is not only better for you, but is way less expensive. I would spend $10 a week on dry shampoo because I went through THAT much. I have a ton of hair, so that probably didn't help.
It also contains ingredients that you may have in your own home, so it is very convenient especially when you run out. I cannot tell you how many times I ran out of dry shampoo, and I would have to leave earlier for work in the morning to go to the store before to get some.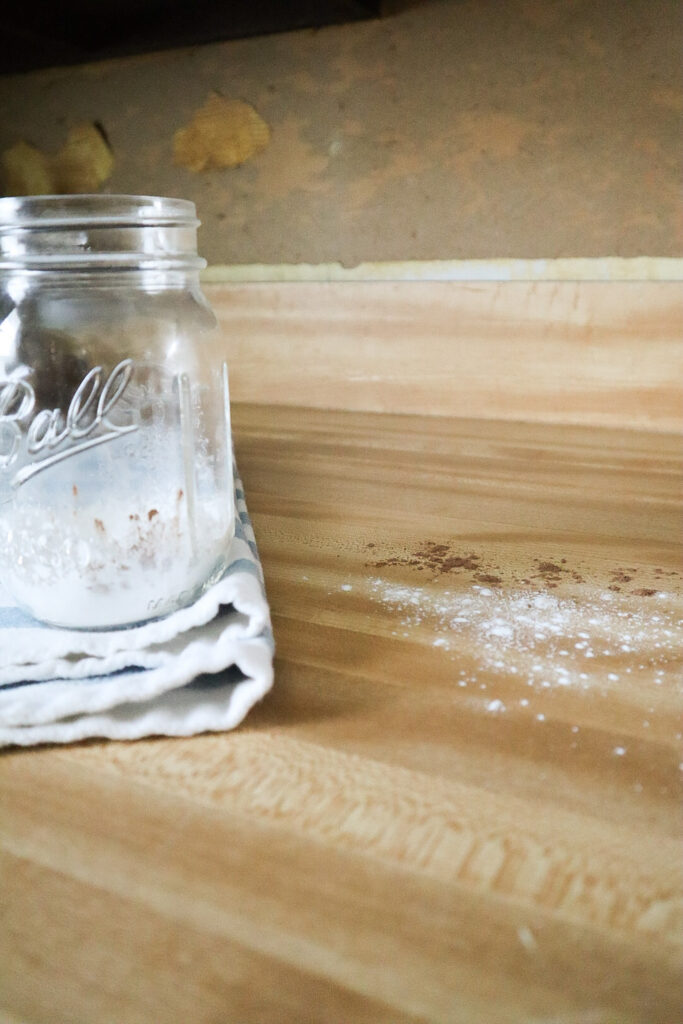 On top of all this as explained before, DIY dry shampoo
HOW DO I STORE HOMEMADE DRY SHAMPOO?
I will store my dry shampoo in a dry area either in a sealed container or even in an enclosed bag. Just keep it in a dry area where no moisture can get to it.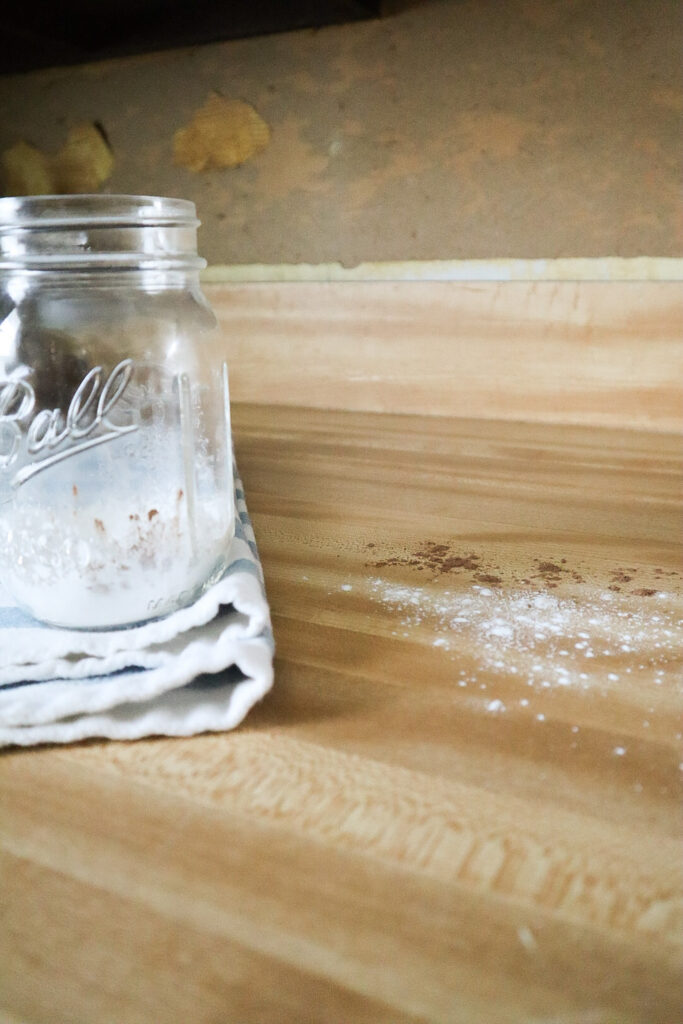 IS IT EXPENSIVE TO MAKE THIS HOMEMADE
NOT AT ALL! There are two ingredients that you use in this dry shampoo:
Cocoa Powder – $1.84
Arrowroot Powder (or Cornstarch) – $7.98 (Cornstarch – $0.92)
Now, I get arrowroot powder from a local farmer, so the price of mine may be way more than what they offer in the stores. Obviously if you use cornstarch, it will be a very large price difference.
I prefer arrowroot powder because it works way better with my hair!
WHAT IS THE TRANSITION LIKE WHEN YOU SWITCH FROM STORE BOUGHT TO DIY DRY SHAMPOO?
The transition from store bought shampoo to DIY dry shampoo was not as bad as I thought it was going to be. It can be difficult to transition from one to another depending on each hair type.
At first, my hair was not very accepting of it. It still was greasy, and I felt I needed to use a lot of powder to make my hair look acceptable to my standards.
As said before, I wash my hair every 3-4 days. With continual use of this, my hair was able to adapt to this dry shampoo fairly well after 2-3 weeks.
Remember to just give yourself and hair some time to adapt to it. Once you do, I promise you won't regret it!
IS THERE FALL-OUT WITH DRY SHAMPOO?
Just like regular dry shampoo, there is fall-out. If you use too much in your hair, obviously there will be a lot of fall-out.
Take it lightly when first using.
HOW MUCH COCOA POWDER SHOULD YOU USE?
The cocoa powder amount will actually be determined by your hair color. You are going to definitely have to play around with it for a bit to figure out your exact shade. Don't worry – you can't mess it up!
If you are more brunette, then you would add more cocoa to your arrowroot powder. Vice versa, if blonde then you would add less cocoa powder.
Bleach blonde will not add any cocoa powder.
It is really dependent upon your shade of hair and what your roots are! The measurements below are my measurements for my hair – I have a dirty blonde concept!
HOW TO APPLY:
You will need to use a makeup brush as the applicator. You can get a cheap one from the dollar store.
Dip your makeup brush lightly into the dry shampoo.
After you have dipped it, tap it on the side of the jar to knock off the excess powder.
Place the brush with the powder onto your roots or wherever you are wanting to put dry shampoo on your scalp.
Lightly pat the brush along where you want the dry shampoo. Do not rub it into your scalp.
Let the mixture sit on your hair for about 5 minutes.
After 5 minutes or more, use your fingers to rub it in evenly.
Apply as much dry shampoo to get the look you desire!
SUPPLIES YOU WILL NEED
Measuring Spoons
Mason Jar
Spoon
Makeup Brush
INGREDIENTS YOU WILL NEED
1 1/2 TBSP Arrowroot Powder (or Cornstarch)
1/2 tsp Cocoa Powder (more or less depending on your shade of hair)
HOW TO MAKE HOMEMADE DRY SHAMPOO
1. Measure 1 1/2 TBSP Arrowroot Powder or Cornstarch into a small bowl.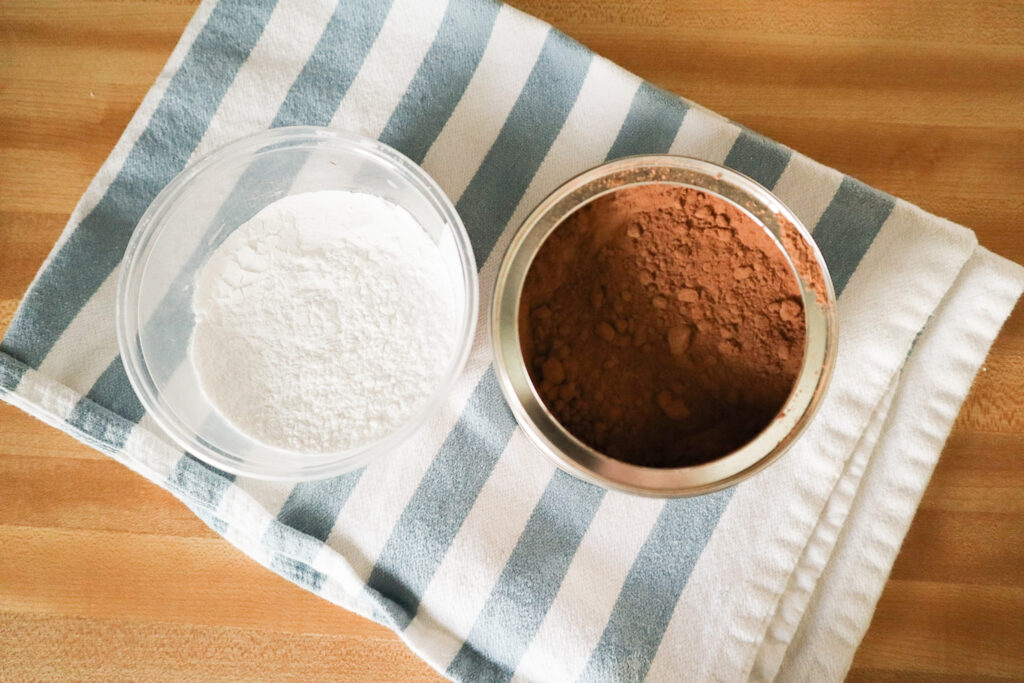 2. Add 1/2 tsp Cocoa Powder to the arrowroot powder and mix together.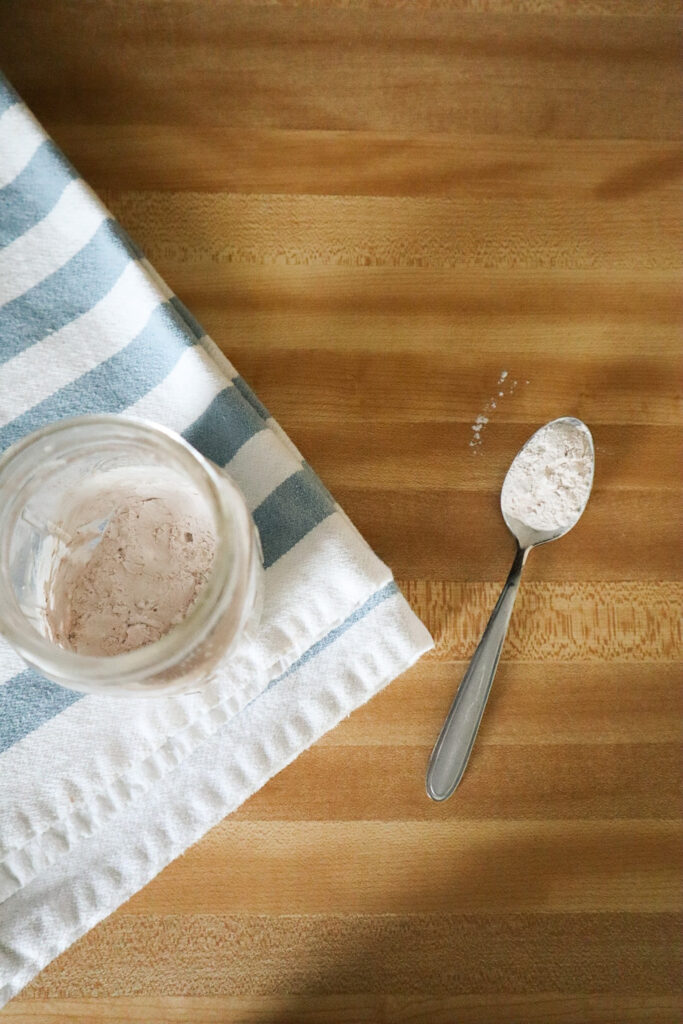 3. Place in a storage container and store in a dry place.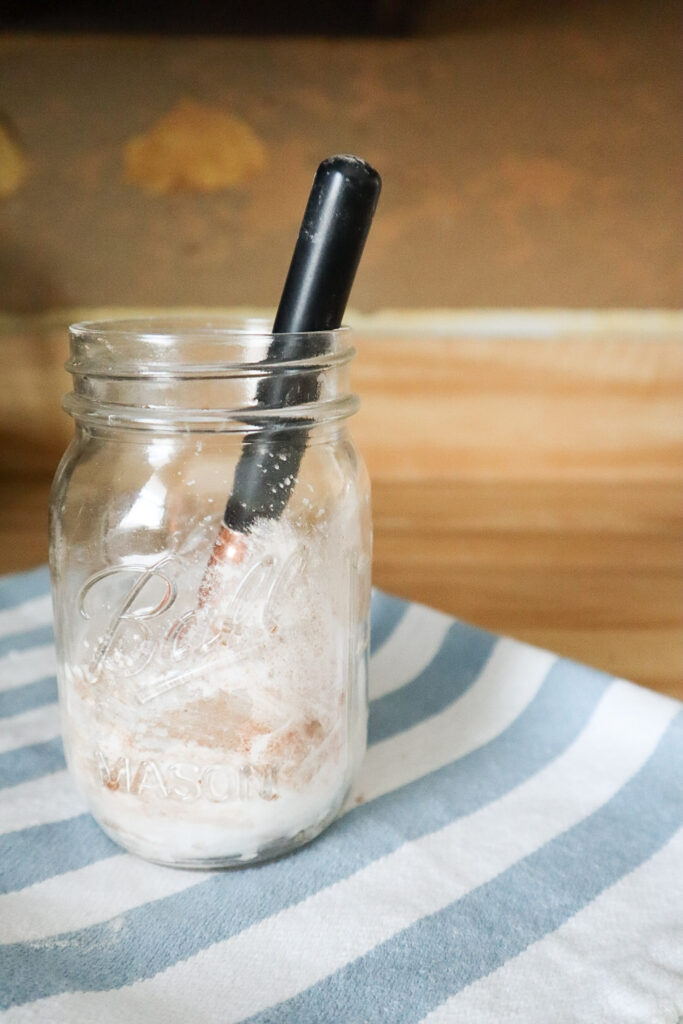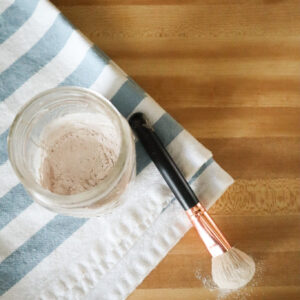 DIY Dry Shampoo
Ingredients
2

Tbsp

Arrowroot Powder

1/2

tsp

Cocoa Powder
Instructions
Measure 2 Tbsp Arrowroot Powder or Cornstarch into a small bowl.

Add 1/2 tsp Cocoa Powder to the arrowroot powder and mix together.

Place in a storage container and store in a dry place.
PIN FOR LATER