This Apple Chicken Salad is a quick and easy meal that tastes delicious with and packed with nutritious foods! This yummy meal is made with 7 ingredients that you probably already have in your kitchen, and is the best meal for the busy nights.
There's nothing like a simple, delicious chicken salad to have for a quick lunch or dinner. It's the perfect amount of sweet along with savory, filled with fruits and veggies and goodness.
It's my favorite thing to make after I roast a chicken in the Instapot and the easiest thing to throw together when I am in a time crunch.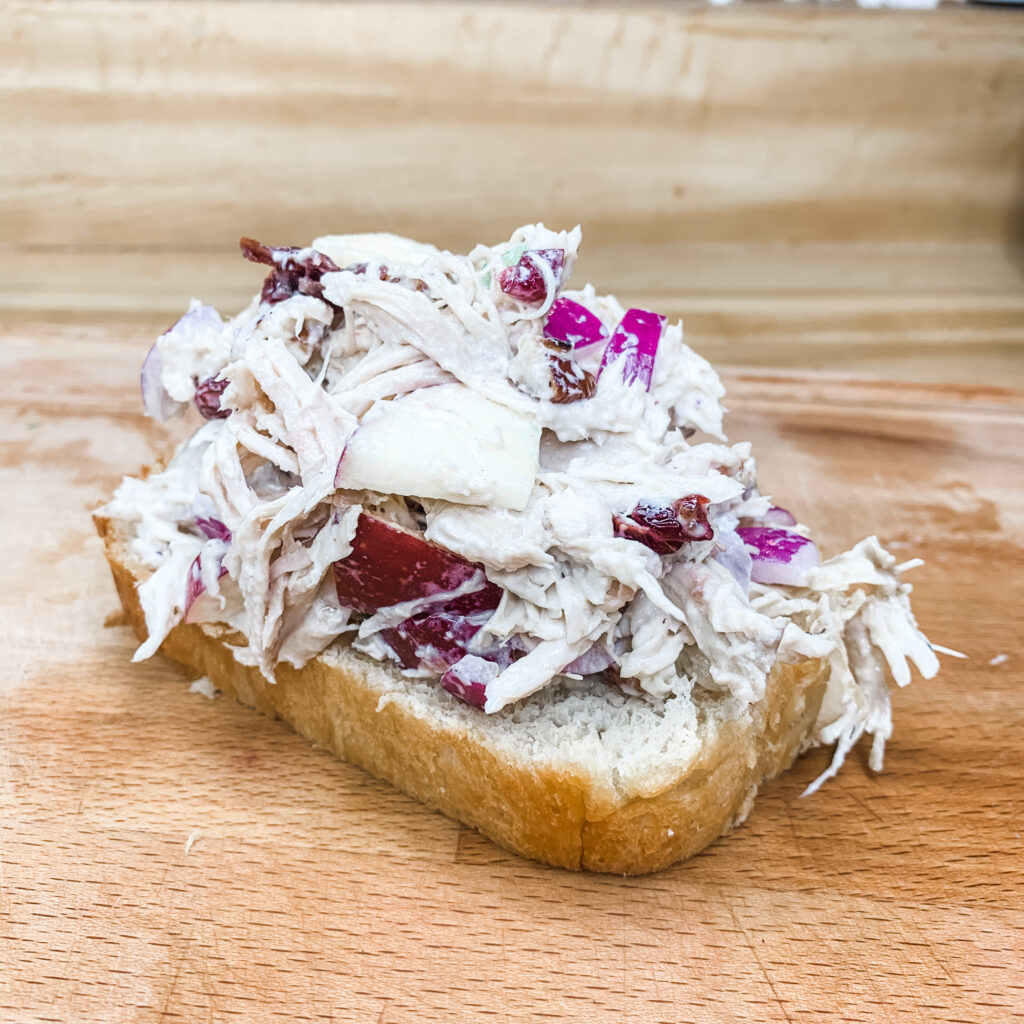 It was kind of on a whim that this happened, but the night I wanted some chicken salad I didn't have any grapes. I thought about going to the store to grab some, but after a long day of work I just didn't want to get out of the house. So I decided to add apples and to be honest I don't think I am going back to grapes. It was just SO GOOD!
I've always had chicken salad with grapes or with no fruit at all (no thank you), but never with apples. No, it isn't a huge game changer, but it just makes chicken salad so delicious.
This post contains affiliate links, meaning I make a small commission at no cost to you. See my full disclosure here.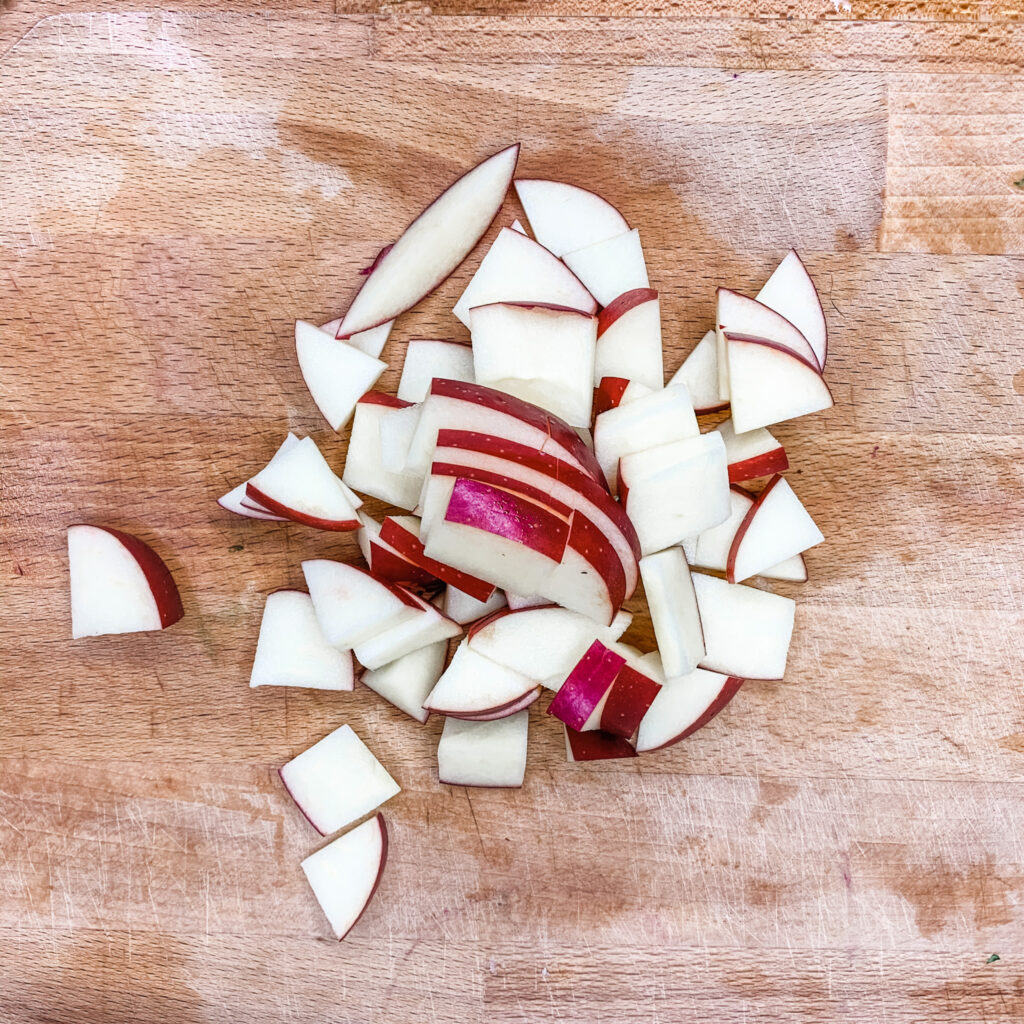 The apples add the perfect sweetness and crunch to the chicken salad. Paired with the toasted pecans on top of sourdough bread and you have the perfect chicken salad sandwich.
WHY USE APPLES INSTEAD OF GRAPES IN CHICKEN SALAD?
The go-to fruit for chicken salad has always been grapes, but were changing the name of the game with this Apple Chicken Salad recipe. Apples give that crunch that we all know and love about chicken salad. They also are the perfect amount of sweet, but can be a little more sour depending on the type of apple you choose. 
Apples are also a staple in our home and we have them on hand constantly whereas grapes are not always available in our kitchen. It's easier to make chicken salad when you have all of the ingredients already accessible in your home! 
WHAT IS THE BEST BREAD TO USE WITH APPLE CHICKEN SALAD?
I may be biased, but I believe the best type of bread to use for this apple chicken salad is sourdough bread. The softness of the bread mixed with the chicken salad just makes this meal taste amazing and heartier. I will typically cut a thick slice and spread the apple chicken salad on top and it is delightful. 
SUPPLIES YOU'LL NEED
INGREDIENTS YOU'LL NEED
Celery – Celery doesn't have much of taste nor nutrition, but it gives this chicken salad the added crunch along with the apples.
Chicken – I normally use whatever chicken is leftover from the dinner we had the night before that I made in the Instapot. Making 2 meals out of 1 chicken saves time, money, and is a sustainable move.
Dried Cranberries – Along with the apples, I feel the cranberries add sweetness to this chicken salad. I don't think I could do this chicken salad without it.
Toasted Pecans – Now this is an added step, but I love it. I will usually heat up coconut oil in a cast iron skillet and toast pecans for a few minutes. Sometimes I will add 1 tsp of brown sugar to the pecans for some flavor.
Red Onion – Here's the savory portion of the chicken salad. This red onions add crunch, flavor, and knocks down the sweetness from the fruit in the salad.
Mayonnaise – You cannot make chicken salad without mayonnaise. Okay, maybe you can, but you cannot make THIS chicken salad without mayonnaise. I use my homemade mayo that I will share soon.
Apples – And the star of the show: apples. They add the extra crunch, sweetness (but not too sweet), and deliciousness to the salad.
HOW TO MAKE APPLE CHICKEN SALAD
Chop all fruits and veggies into small, bite size pieces.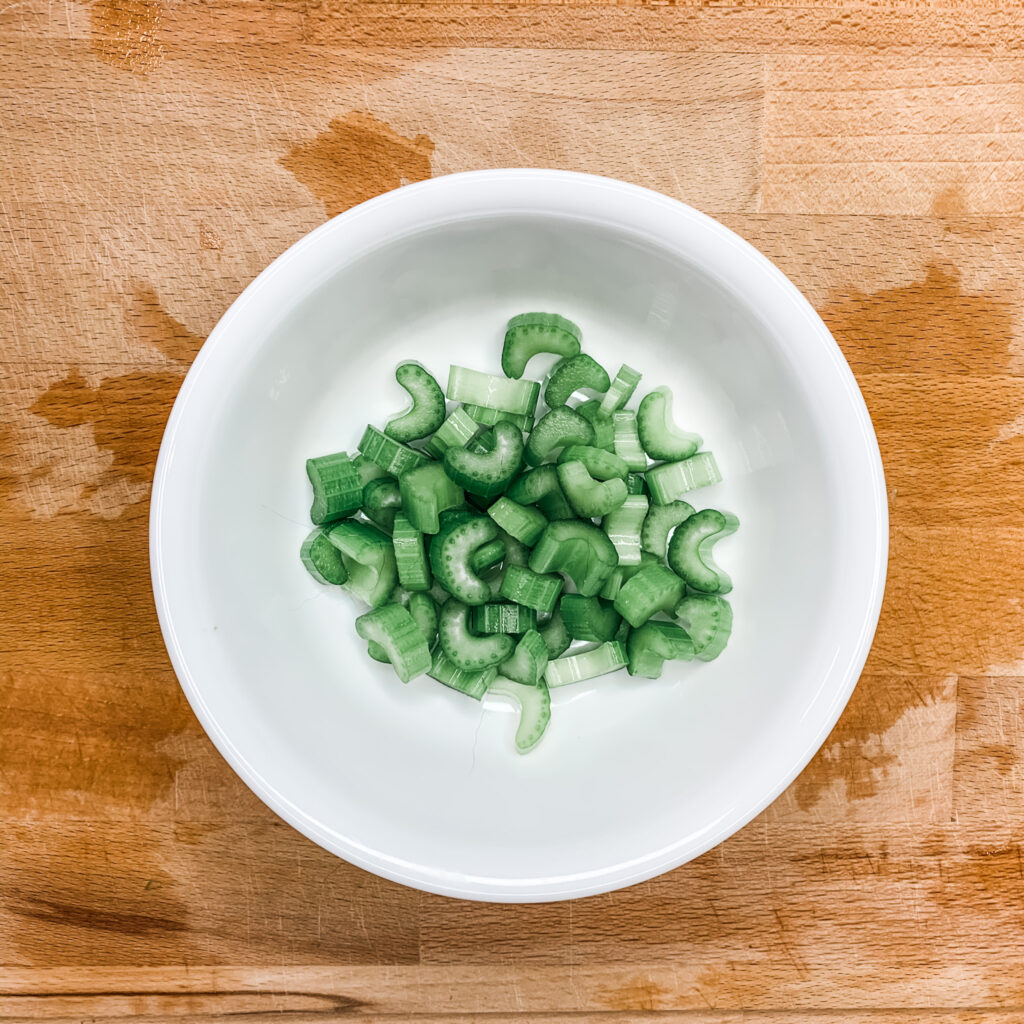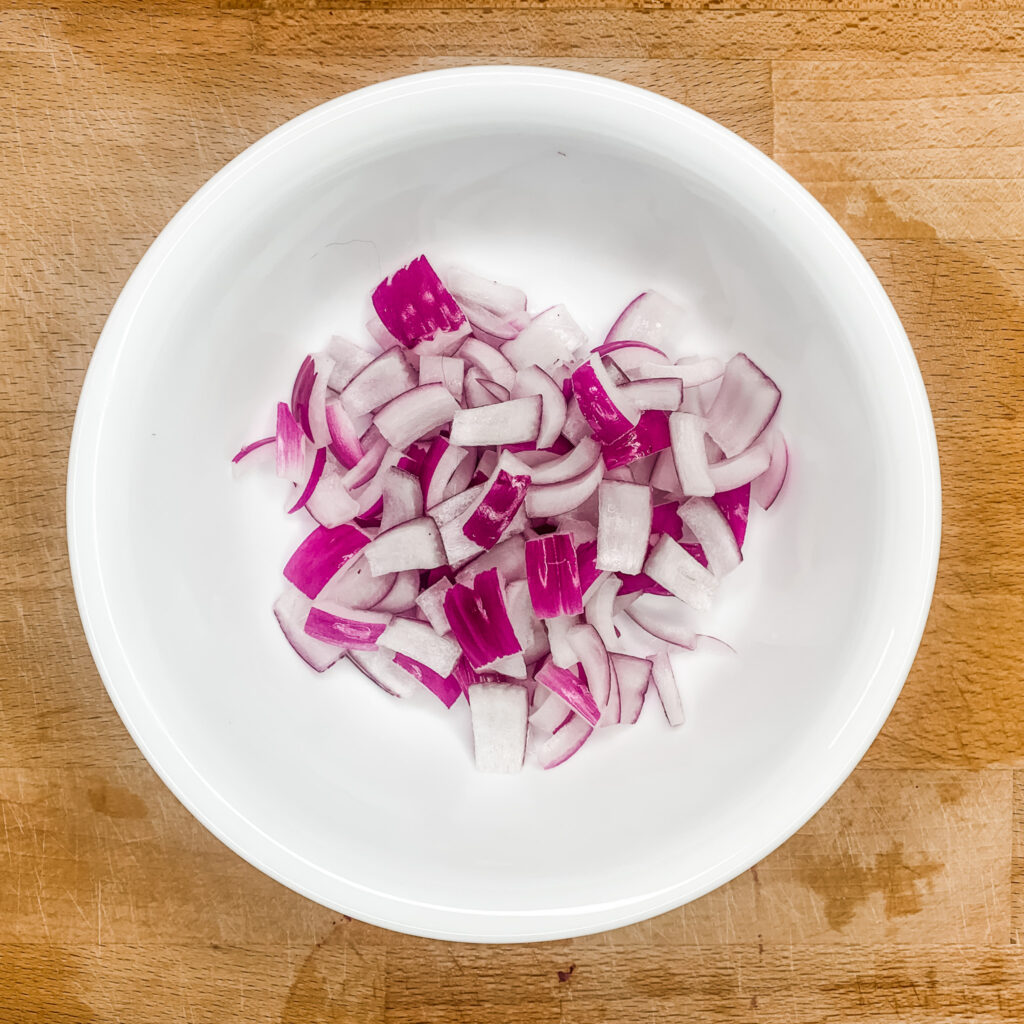 2. Heat up cast iron skillet. Once heated, add coconut oil to the pan. Once coconut oil is heated to a liquid, add the pecans. You could also add a tsp of brown sugar for some flavor. Stir the pecans around until desired texture of crispness.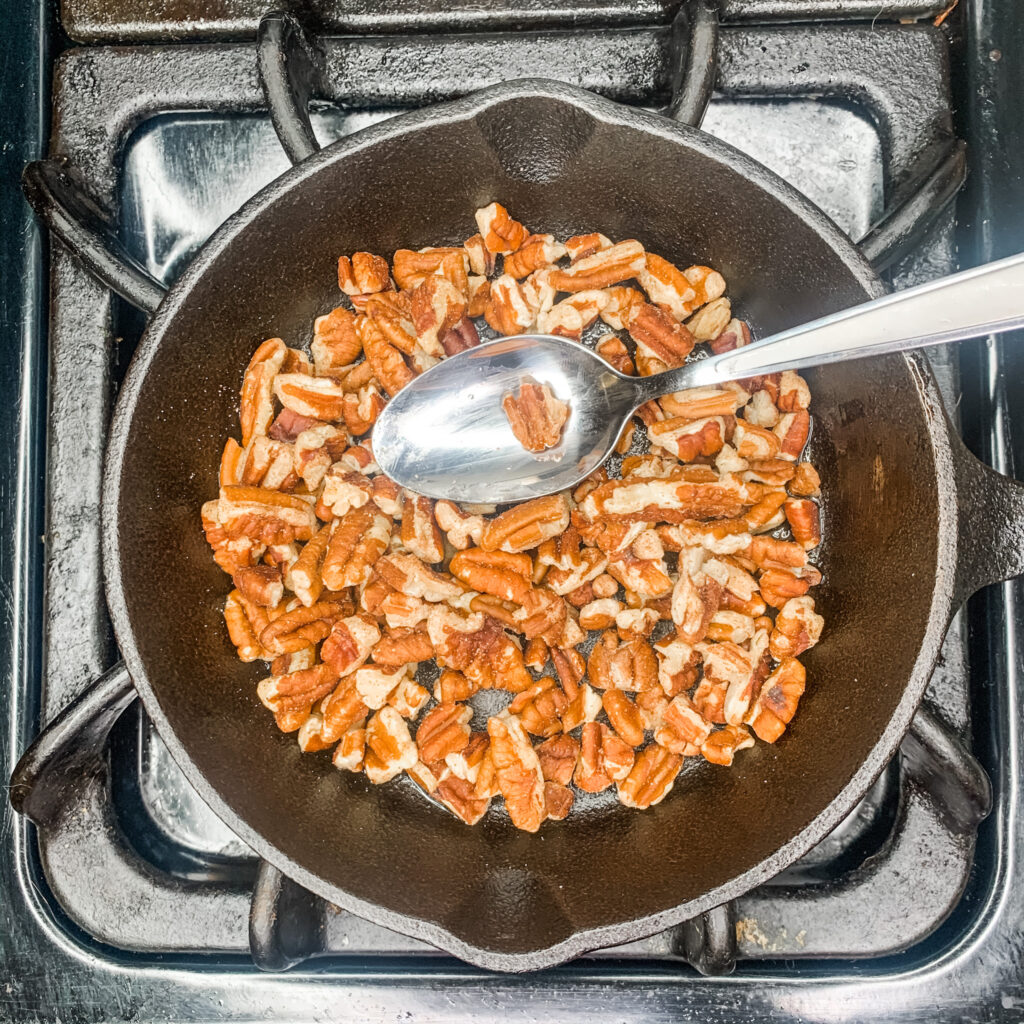 3. If you haven't already, shred the chicken. Pull it apart with your hands.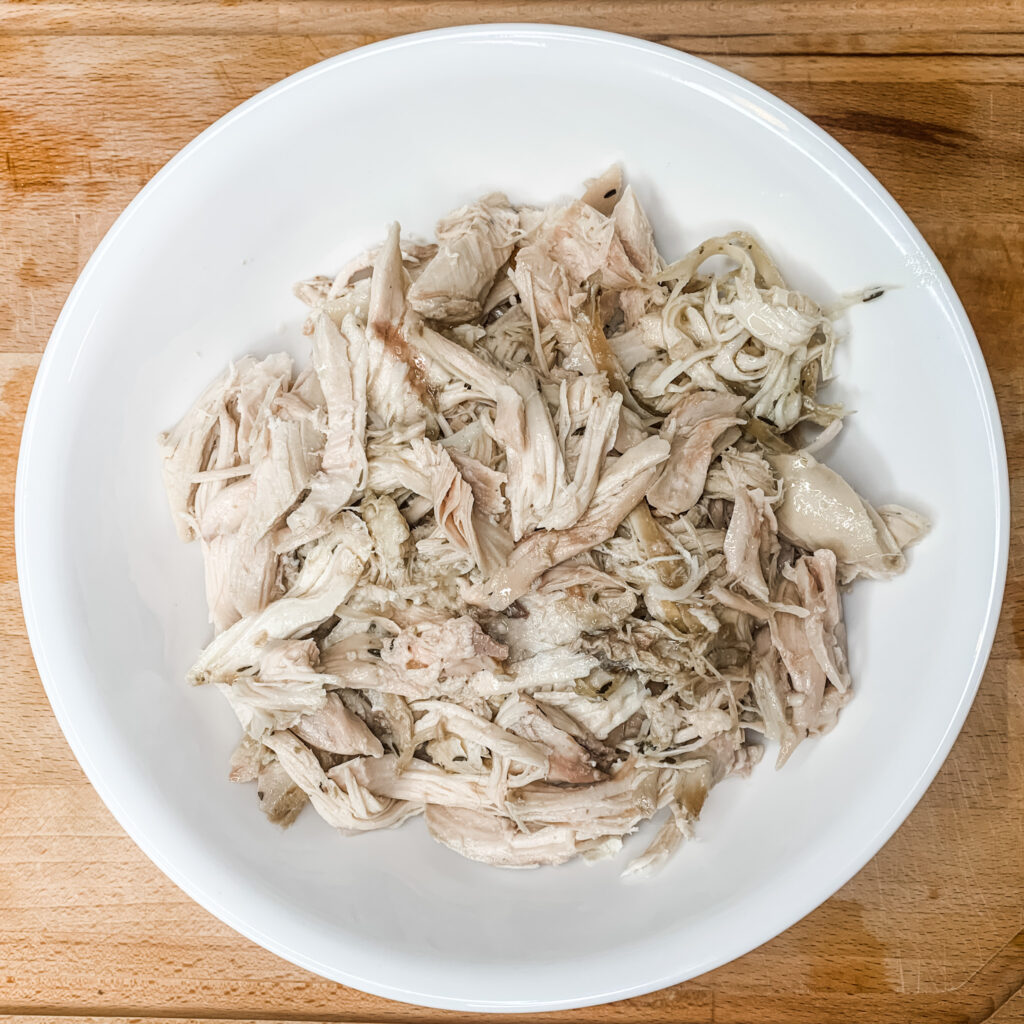 4. Add everything to the same bowl. Add in chicken, then the cut up veggies, fruit, cranberries, and pecans.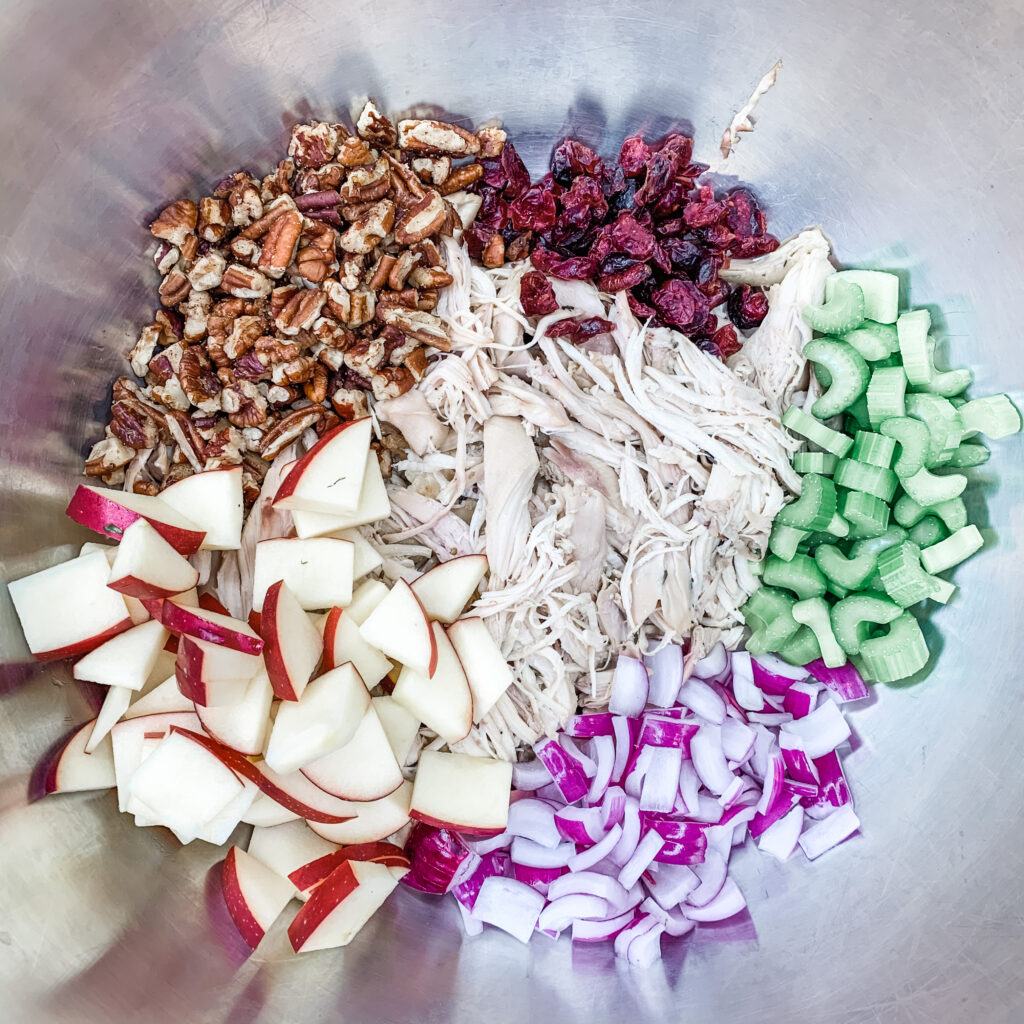 5. Add in the mayonnaise.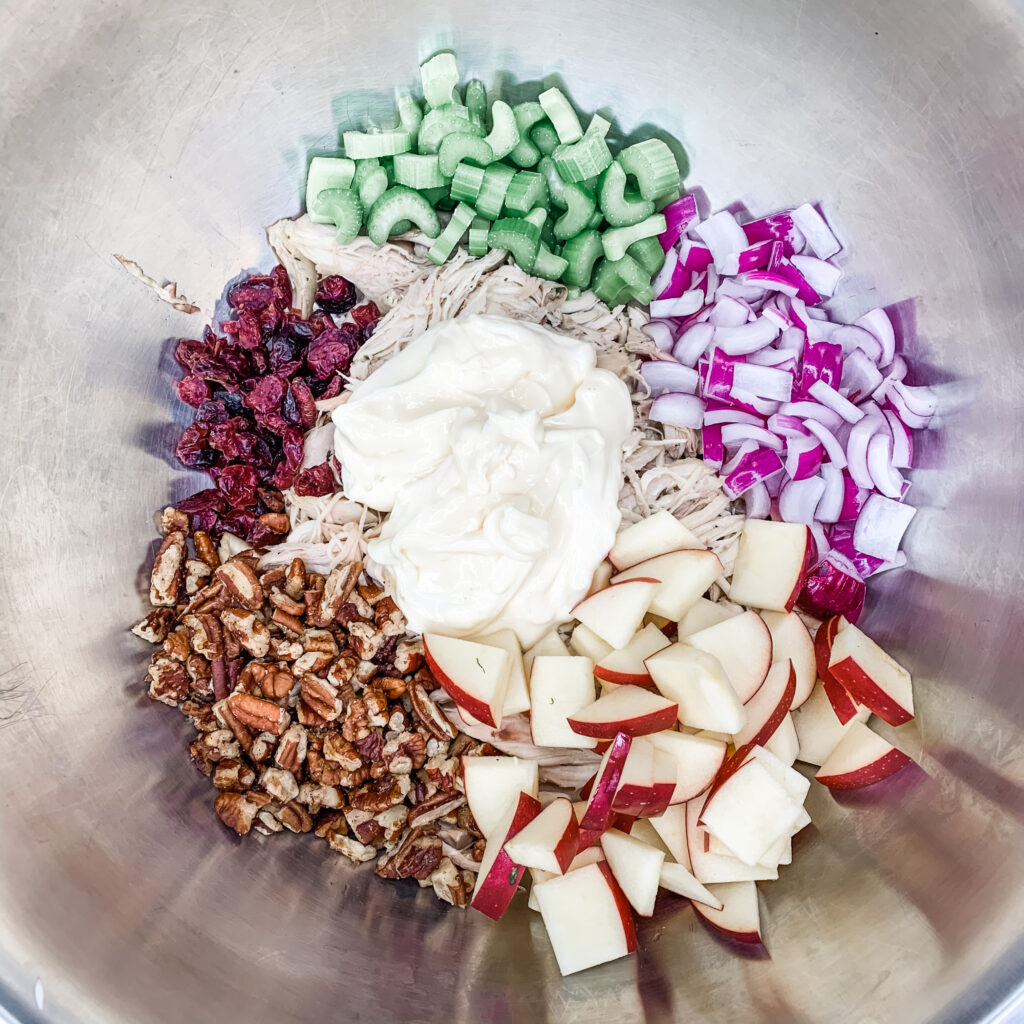 6. Stir together and ENJOY!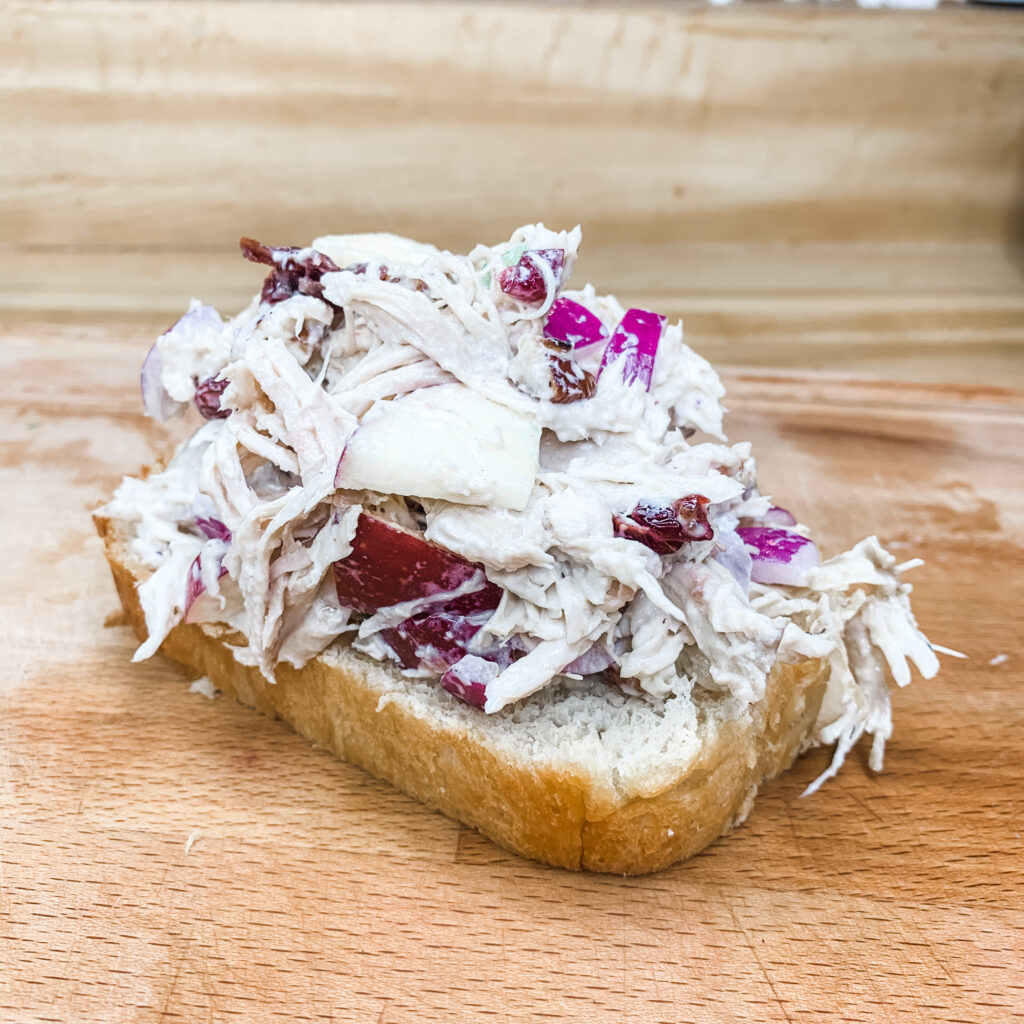 I love to eat mine with a piece of homemade sourdough bread or on top of a green salad. It's so quick to make and delicious to eat.
I hope you enjoy!!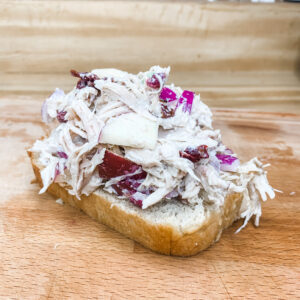 Apple Chicken Salad
Ingredients
Half

Roasted Chicken

1/2

cup

Celery

chopped

1/2

cup

Dried Cranberries

1/2

cup

Red Onion

chopped

1/2

cup

Pecans

toasted

1

cup

Apple

chopped

1/2

cup

Mayo

1

tbsp

Coconut Oil

(if toasting pecans)
Instructions
Chop celery, red onion, and apples into bite size pieces.

Heat cast iron skillet. Add coconut oil to pan. Once coconut oil is melted, add pecans to the skillet to toast the pecans. Add 1 tsp of brown sugar for flavor is desired.

Shred the chicken for the salad.

Add chicken, celery, cranberries, red onions, apples, and pecans to the same bowl.

Add mayonnaise to the mixture, and mix it all together.
Notes
I have always added brown sugar to the toasted pecans for a little bit of flavor and added sweetness.