Read below to learn more about the benefits of Cast Iron cooking and why you should make the switch to it. Cast Iron Skillets are a healthy, more affordable way to bring to life any meal of the day with easy cleanup. Keep reading to learn all the reasons why you should switch to Cast Iron.
Cast Iron cooking is making it's way back around and there are multiple reasons for it. When I got married I used Cast Iron in the kitchen every now and then, but made the switch to cook with only Cast Iron in March of 2020.
I'm here to tell you I am never going back to non-stick pans.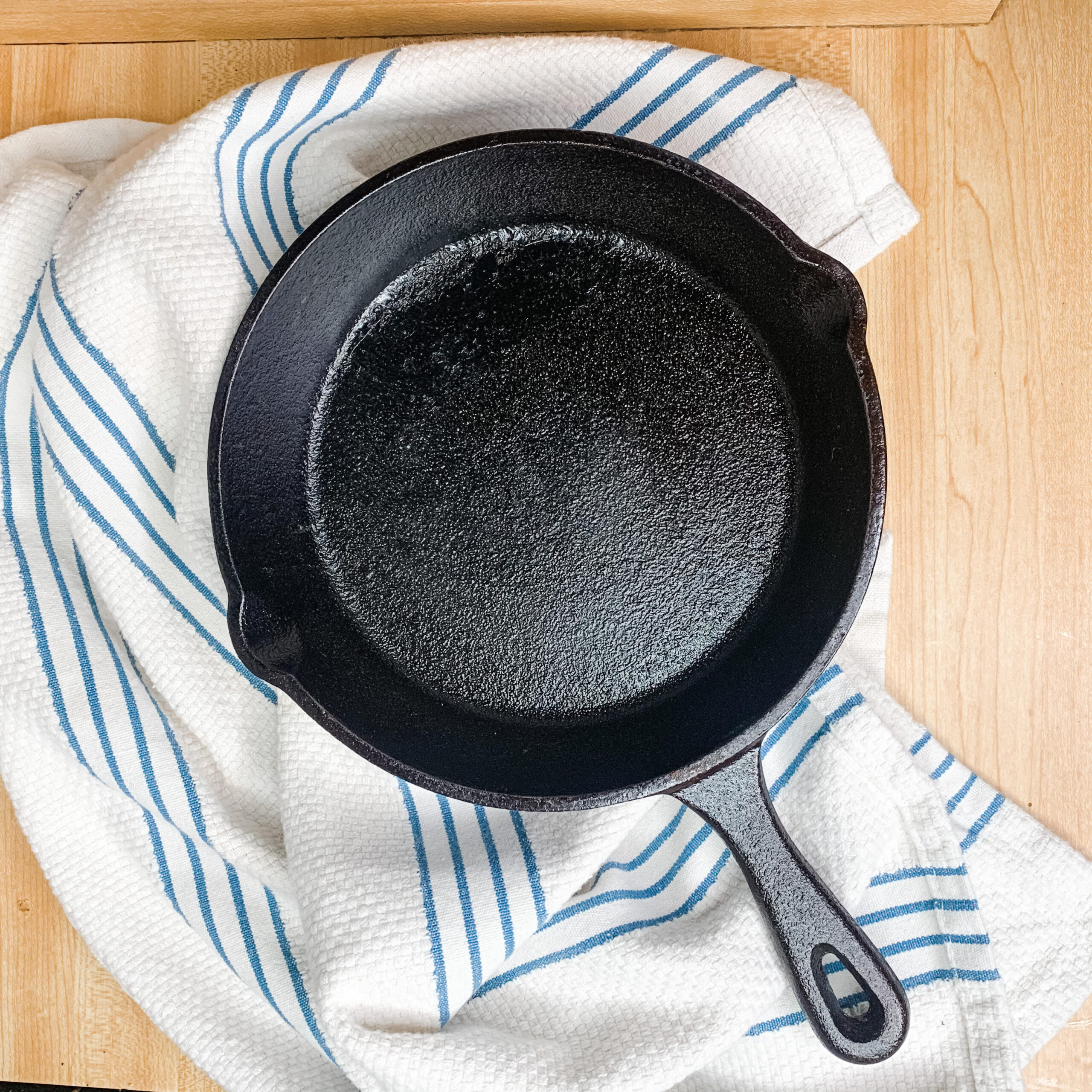 CAST IRON HEATS EVENLY AND STAYS HOT
The heating properties of Cast Iron is like no other. When they get hot, they stay hot to the temperature you are looking for. This is great for searing meats, making the perfect Fall Sweet Potatoes, or baking desserts like cinnamon rolls in the oven. There is nothing more irritating than having something not "done in the middle" and having to pray that the part that is done doesn't burn as you wait for the middle. Cast Iron won't let that happen.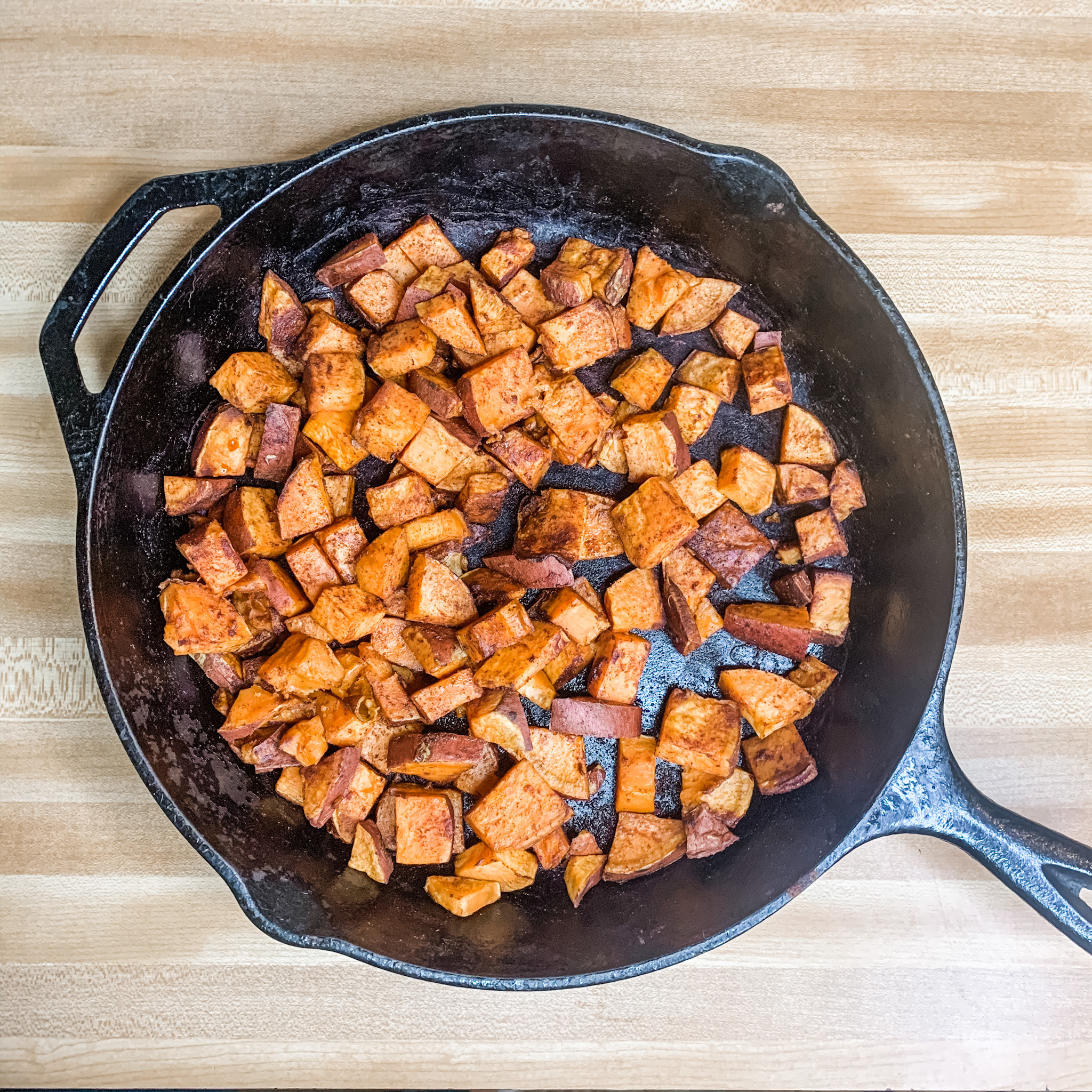 2. CAST IRON IS INEXPENSIVE
Home Goods probably has a nice, large skillet for $15 at their store. Once you pay for one (and as long as you take care of it) then you will never have to get rid of that one. Cast Iron will more than likely last a lifetime if it is cared for properly. You can also find them sometimes at garage sales or goodwill for a cheaper price than listed above. Even if it looks a little rough, you can take it home and season it to bring it back to life. My nana passed down a couple Cast Irons to me when I got married, so that was a huge savings too.
This post contains affiliate links, meaning I make a small commission at no cost to you. See my full disclosure here.
3. CAST IRON IS EASY CLEANUP
After cooking a big dinner there is nothing more upsetting than seeing the pan you cooked it all in have food stuck to it. Well, have no fear because Cast Iron is an easy cleanup! To clean it, simply use hot water and a scuff pad to rub off anything. Never should you wash Cast Iron with soap for this can damage the Cast Iron. Also, do not allow the Cast Iron to drip dry for this will cause it to rust. After you wash with water only, dry it off with a paper towel.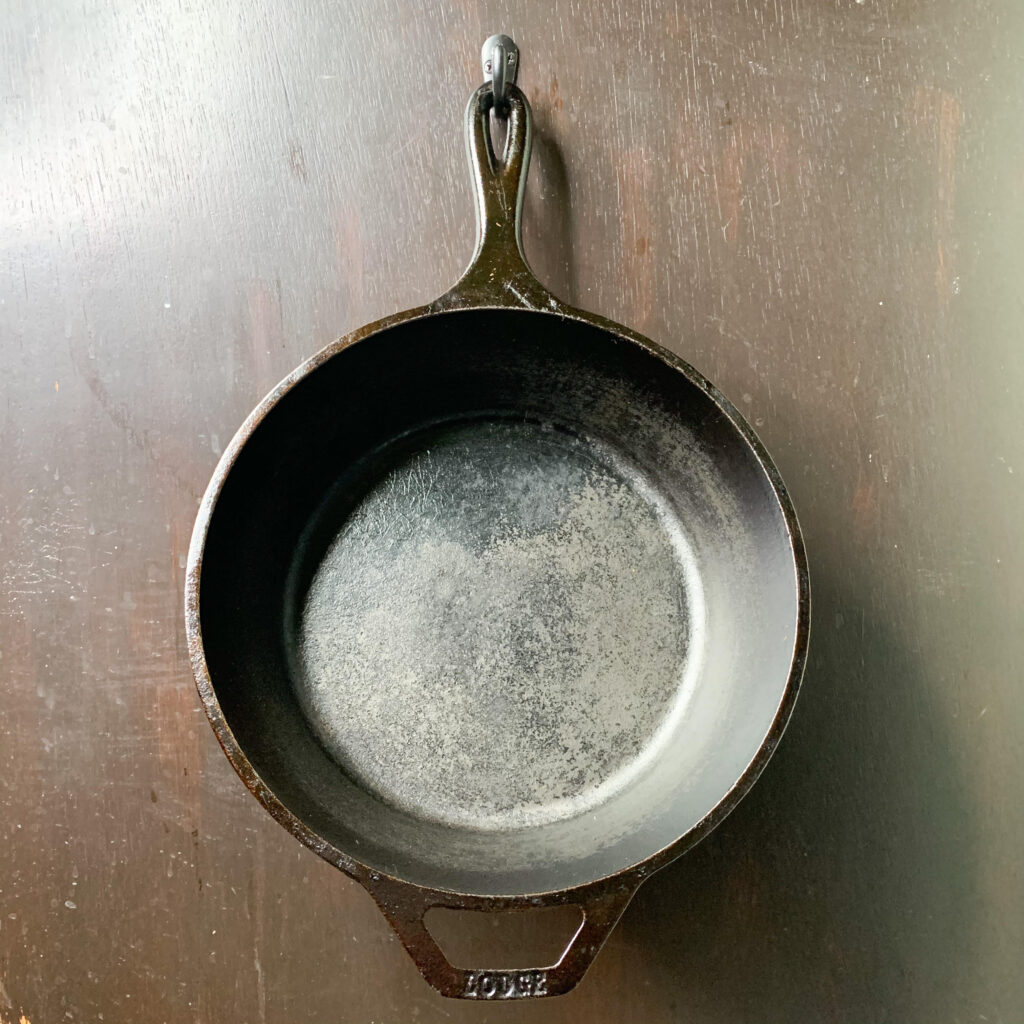 4. SEASONING CAST IRON IS EASY
Once your food starts sticking to the pan or the black pan starts turning a dull color, thats when you know it is time to re-season it again.
What you will do is turn the oven on to 450 degrees. You will then clean the pan with soap and water. Dry it with a paper towel, and then wipe oil of any kind all over the pan. Once the oven is heated, place the pan in the oven upside down on the top rack and let it sit there for one hour. I usually do this at night so then when I turn my oven off, I will leave the pan in the oven and let it cool there overnight. You now got yourself a nice clean pan waiting for you in the morning for breakfast!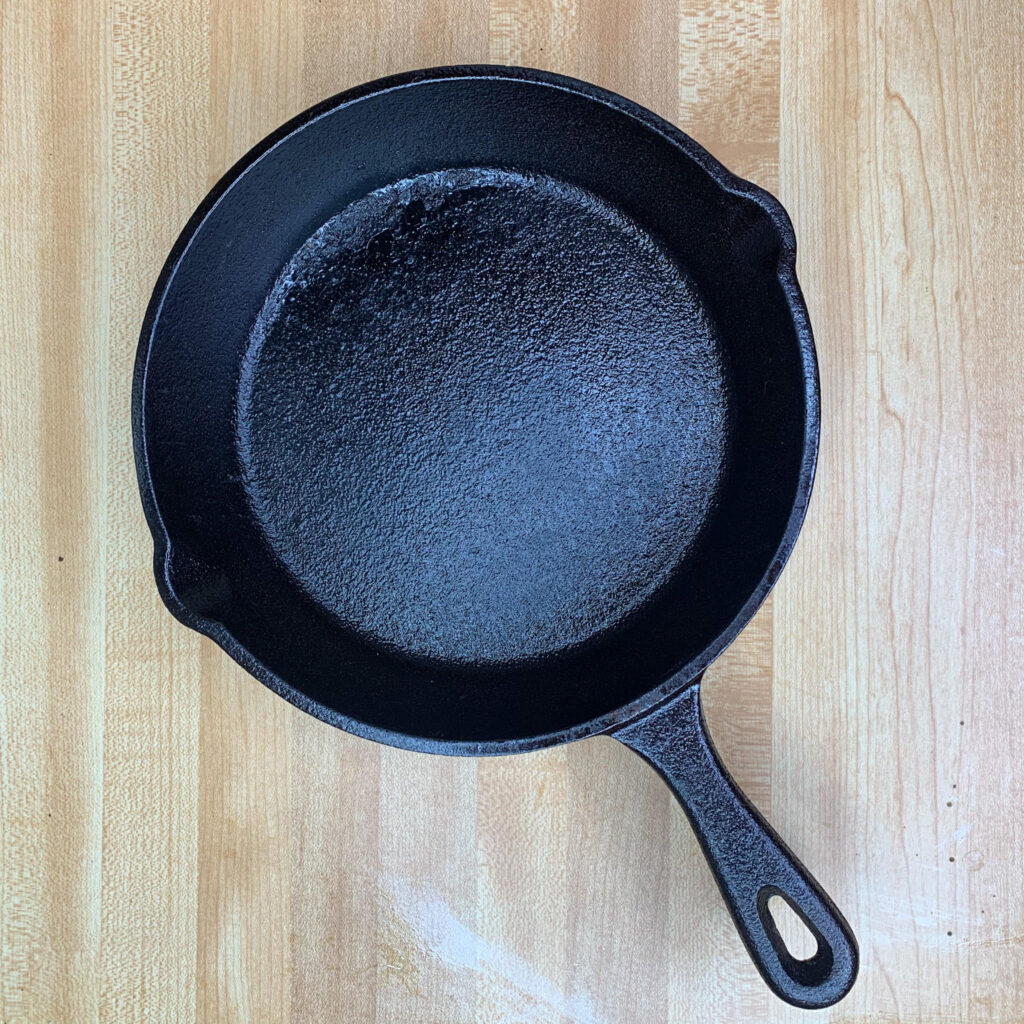 5. CAST IRON IS A HEALTH CONSCIOUS DECISION
Cast Iron doesn't have the same chemicals as non-stick pans do; honestly, they have none! Cast Iron is basically non-stick already without all the chemicals that come with it. Non-stick pans (made with teflon) have made their way to almost everyones shelves these days. When they are heated to high temperatures, especially when dry, they can release chemicals known as per fluorinated compounds (PFCS). PFCs have been known to be linked to many health problems to hormones, brain health, and cancers.
Also, Cast Iron can fortify your foods with Iron, which we all could use a little more of in our diet! The more acidic your food is, the more iron accumulated, but also remember that real acidic foods can make your food have a metal taste (just be cautious of this).
6. CAST IRON IS VERSATILE AND INDESTRUCTIBLE
Cast Iron Skillets can be used for pretty much anything in your kitchen: searing, baking, braising, broiling, roasting, sautéing, and so much more! They also can handle anything thrown at them.
Not paying attention to dinner and burn the food? Cast Iron pan is more than fine and will be good as new (and no harmful) after a little cleaning.
Drop it on the floor? Won't shatter or chip at all!
Cast Iron is the pan to have in your kitchen! I remember when I first got my non-stick pans for our wedding. Within the first month, the bottom of the pans had already went bad and they looked AWFUL. I was always concerned cooking because what if it caught on fire or I got some of those awful chemicals in our food? Switching to Cast Iron got rid of all those fears, and now I have nice, beautiful pans to cook with!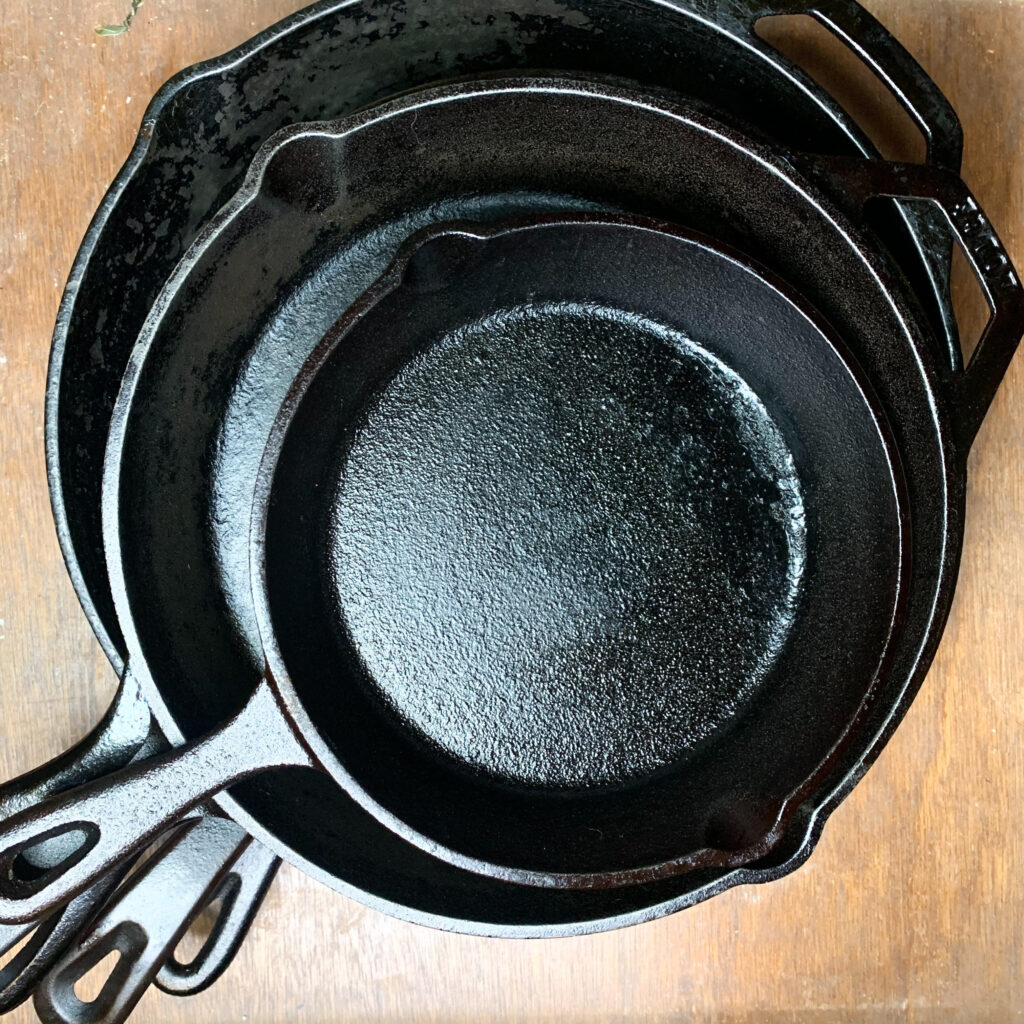 7. YOU'LL INSTANTLY FALL IN LOVE WITH CAST IRON
Cast Iron can be used for so many different dishes: Breakfast, lunch, dinner, desserts, sides, etc. I even use my cast iron dutch oven for soups that turn out amazing! The pans also make great decor for hanging in your kitchen on top of easy cleanup.
We love our cast irons in our home and we are never going back to Teflon. Our food tastes better, I'm spending less time cleaning, and it feels good knowing that the pan that I am using will do a good job making our food without all the added chemicals added to it.
There's a reason these pans last for many years, and making the switch won't be something you regret.
– Alexa, Church Street Homestead